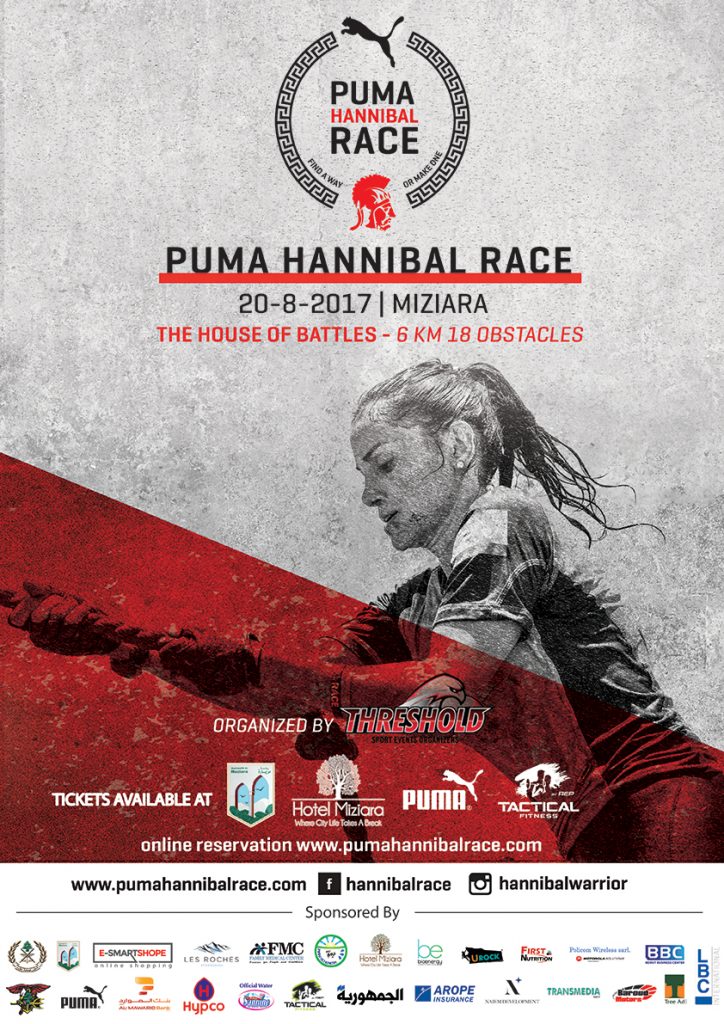 "Find a way or make one"
PUMA HANNIBAL RACE – The house of Battles is an obstacle racing series with a 6KM, 8KM and 13KM track course: You will run, jump, crawl your way over/through multiple obstacles and mud on your way to the finish line!
The course is uniquely designed to test your mental and emotional fitness and push you past your limits. Our races are muddy, creative, and extreme. They will exhaust you and exhilarate you.
ANYONE CAN BE A HANNIBAL WARRIOR !!!
The general participants of  PUMA HANNIBAL RACE are extreme thrill seekers, strong willed individuals with a giving heart, and possess athletic stature.
Obstacle Course Rate
Date: Sunday August 20, 2017
Place: Miziara , North of Lebanon
How to get there:  Beirut-Chekka-Kfar Hazir-Zghorta-Miziara Or Beirut- Tripoli- Majdaliya-Zghorta-Miziara
Buses available at Palais des Congres Dbayeh will be moving at  7.00 AM sharp
Online registration closes on 20/08/2017
Onsite registration closes during event day at 9:00 AM
Event Start Time: 10:00 AM
Make sure you get to the race one hour before the time of the race you registered for to pick up your Bibs.
SEE YOU AT THE FINISH LINE!!!